Author: Anirudh Mackar
            On the 9th of October,2013,I happened to visit an art exhibition and interview the artists who had organized this exhibition.During this period of Navaratri and Durga puja,Kolkata,''the city of joy'' begins its season of festivity and continue it till the advent of a fresh year in our lives.The colourful lights hung on the trees and sidewalks make us march towards the unending blazing roads of eternity.The multitudinous crowd going out for pandal hopping with their respective friends and families make it one of the largest celebrated festivals of the world. The creativity shown by myriad artists and craftsmen is insurmountable.Their genius baffles even the most genius brains.These 'beautiful' craftsmen make exquisite pandals even out of waste and other useless products.There are tastefully drawn up stalls offering all the food ranging from gol guppas to bhel muris,stalls selling miniature vuvuzelas to whistles while there are others which sell soft drinks to beverages. People look energetic and enthusiastic not only during the day but also in the hours of bats and owls.Thus,there is joy everywhere-roads,pandals,roller-coaster rides and in the faces of idols,visitors and the hawkers.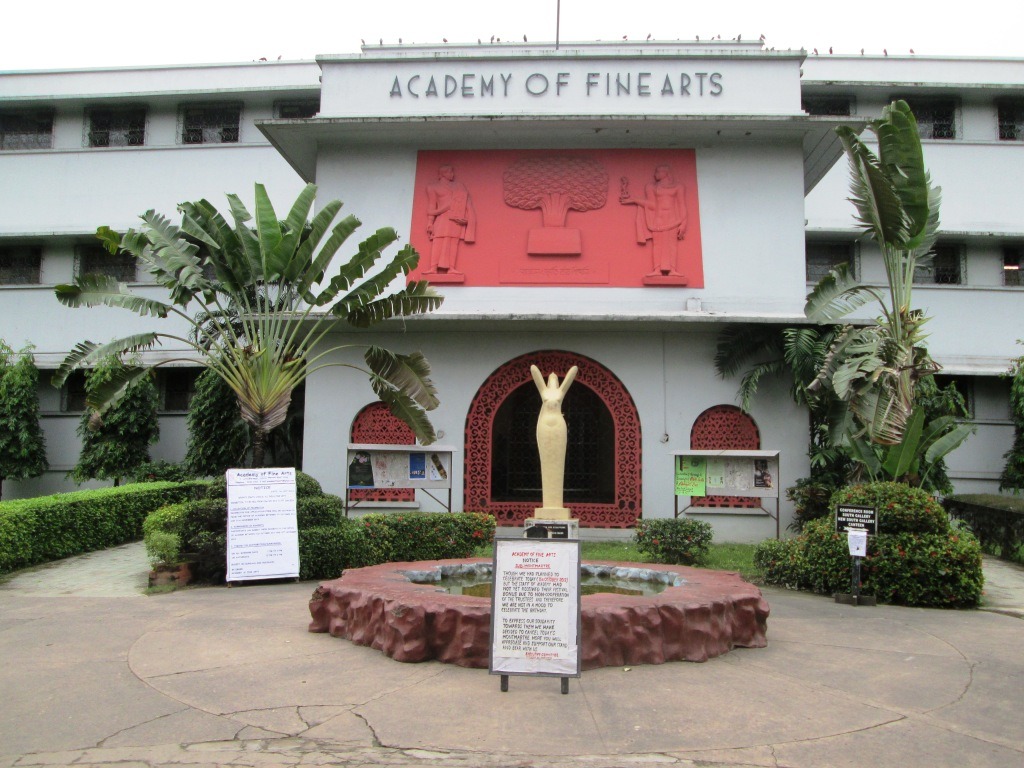 Amidst all these,the city also celebrates in other ways like organizing fairs,exhibitions,sales,etc. thereby displaying the fresh collections of canvas paintings,pen paintings,etc. in various art galleries and exhibition halls of town.I happened to visit the Academy Of Fine Arts on the Cathedral Road,Kolkata.It was my first visit to any such exhibition in this city of many renowned artists.The sprawling,lush of grasses glittering with blossoms of flowers shone like the crowns of Gods among the halo of light encircling their heads.The spectacular architecture itself tells you about the best which is yet to come.There are many galleries inside the main building but I had chosen the South Gallery and the Central Gallery.I realized the true meaning of the proverb''One should not judge the book by its cover'' when I saw the unprepossessing entrance and the marvelous paintings.Some of the paintings depicted characters of real life while others appeared illusionary. Some scenes depicted the serious issues of daily life-like rape,murder,etc. while some others focused on the other side of the coin like jokers juggling in a circus,people laughing their hearts out at the comedians' jokes.Some depicted real scenic beauties like the ghats of Varanasi while others had a tinge of abstract ideas infused with the real occurrence of events like crucifixion of Jesus.There were also paintings which were based on life before birth in the mother's womb as well as life after death as supernatural beings.Apart from paintings,there were wind chimes and other creative lights and handicrafts which were also put up on the exhibition.After having taken the snapshots of some of these paintings,I had taken the interview of two of the artists who had organized many such exhibitions in this academy and other cities as well.
Some excerpts of my interview of Mr. Abijit Das:
1.What tertiary qualifications have you attained which has enabled you to reach such a milestone in your career?
      I have an M.Sc. in Economics from the University of Calcutta and a B.Ed.I am an Economics teacher in St. Stephen's school,Dum dum.Of course,this din't help me in painting.It is my passion towards art which has taught me painting.
2.Who has motivated you to reach so high in life?
          Mahendra Singh Dhoni is a self-taught cricketer.He din't have much of a training when he came to the team but still he achieved gargantuan feats.Same is with Kishore Kumar.If they can do why can't I?This is why I am a self-taught painter.
3.Who is your favourite painter?
          M.F.Hussain,Bikash Bhattacharya
4.Being an Economics teacher,how do you get time to paint?
        I have school and then tuitions till 8-9pm at night and then I sit for painting.Sometimes I paint throughout the nights for some days.
And Some excerpts from my interview of Mr. Aloke Dutta :
1. Did you receive any tertiary qualifications in this field?
           I had passed from Rabindrabharti University in 1981 and then went to Shanti Niketan for 2 years of training and kicked off my career at the Academy of Fine Arts with my first exhibition in 1982.
2. Where would you like to be in 3 years?5 years?
         I wish to organize these exhibitions continuously and if all the arrangements are satisfactory,would organize these exhibitions abroad as well.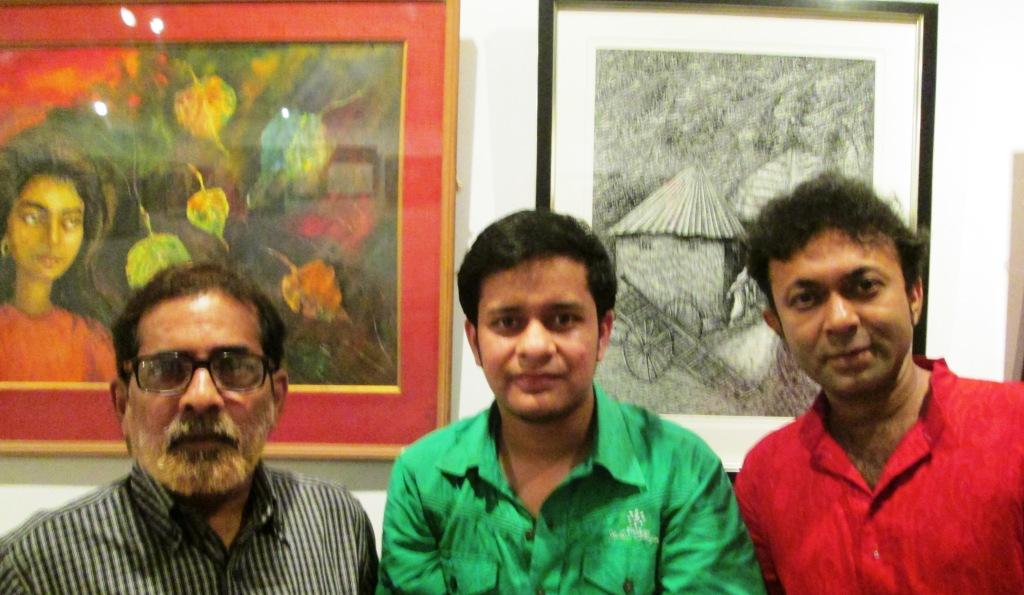 An interview of these two charismatic artists tell us that they have achieved so much and are admired by so many people but still they are very down-to-earth.Their approach towards life is full of humility and patience which are some of the key factors for success.