Mahatma Gandhi, the 'father of the nation' fought selflessly for the country's freedom but had to face untimely death. Today we, the Indians, are celebrating his 146th birth anniversary in various ways. Special events are pre-scheduled for the day such as paying homage, praying and singing Gandhiji's favorite song "Raghupati Raghav Raja Ram" at the Raj Ghat, New Delhi where he was cremated and various other places in the country. As it is a gazetted holiday for the Indians so government offices, educational institutes and banks remain closed for the day.
October 2nd is also pronounced as the Peace Day in India and is truly a harbinger of peace in the lives of daily office goers. For them it's nothing but a day for relaxation, for shopping, for spending some quality time with their family. A restaurant in Gurgaon decided to 'celebrate' Gandhi Jayanti by offering 'one-plus-one' offers on Chinese food and biryani to 'feel the sacrifice of the great Mahatma Gandhi'. To add to it, it is a jail-themed eatery called 'Lockup'! The shopping malls owners and shopkeepers at Kolkata seemed excited when they were asked about their plans on Gandhi Jayanti this year. "There are three consecutive holidays in this weekend including Gandhi Jayanti. We are expecting a heavy rush of people right from the morning for Durga Puja shopping" said a shop-owner at the New Market, Kolkata.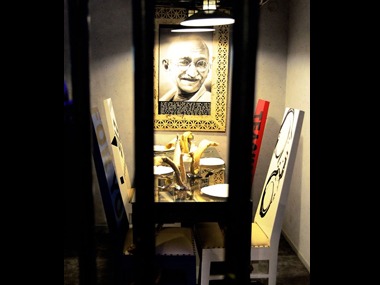 The Lockup restaurant interiors. Image Credit: Official Facebook page
A year before on this day the present Prime Minister Shri Narendra Bhai Modi tried to revive the thoughts of Mahatma Gandhi and has started the 'Swacche Bharat Abhiyan' which gained momentum by his powerful speech and celebrity endorsement. His endeavor has definitely enlightened the youngsters as well as the middle-aged and aged people of the country. A survey reads that all the states of the entire country has come up to participate in the 'Abhiyan', but in a country who ranks third in the count of population can not be changed in just a year. A lot is yet to do, to clean the nation both hygienically and ethically. So lets come together and Kadam Kadam barhaye jaa…!