Gokarna, a little coastal town that we recently visited with dual purposes of taking some time off hectic regular life and of acquainting our toddler with sea and sand, probably derives its name from the fact that it is situated bang on the Goa-Karnataka border. The nine hour drive was exhausting, especially for my husband, but it did reward us with views of vast valleys and green meadows, and past Mundgod, of forests and hillsides.The very varied landscape is an ever-constant joy. And trust me, it is rather difficult to appreciate such things when you have an almost two years old chattering and screaming and doing things that ensure that his parents are paying attention to him. Still the winding road entranced us as Hubby maneuvered his way past oil tankers and huge trucks, of which there are many on this route.
Most of the journey took us by NH4, a joy to drive on. On the way there comes a fort town, Chitradurga, but we could stop there only for breakfast. The little town of Mundgod is apparently home to a small Tibetan community and they looked all geared up to welcome the Dalai Lama. I would have loved to stop, and we did actually, to feed Rishi, just outside the settlement, but there were very few people around, and the place looked charmed, what with the colourful flags fluttering in the breeze and the mellow light of an intermittently rainy morning, and who would want that charm to break?
It felt like Keats's Grecian Urn, frozen in time somehow. So on we went, and the road started ascending the hills. Entering Gokarna we crossed the river Aghanashini, grand and beautiful like her name, and went past a little market towards Kudle Beach overlooking which stood our resort. Places to stay are many, since the town is quite popular with foreigners and young people, but some are seasonal, and were closed for this off-season period. Our resort seemed to have provided us with the best available marriage of affordability and comfort. Also it is situated a 300 metres walk away from the Kudle Beach, one of Gokarna's five beaches. The walk down to the beach consisted of some proper stone steps, then an unpaved mud stretch and finally, quite a stretch of stones over which a water stream was running.
Hubby the Hero carried our son in his arms both ways while I almost panicked, worrying about us slipping. It was a little adventure all right, and it surely improves one's overall experience.The beach was strewn with litter and narrow, but lovely otherwise. There were many rocky outcrops nearby. There were friendly dogs around, one of which nuzzled our son and finally punctured his football trying to play with it. The sea comes almost all the way in, so there was no dry sand to speak of. The rain was also to blame I suppose.  A three kilometre trek could bring one to Om Beach, but it was getting past evening and I didn't want to risk it in case it rained again.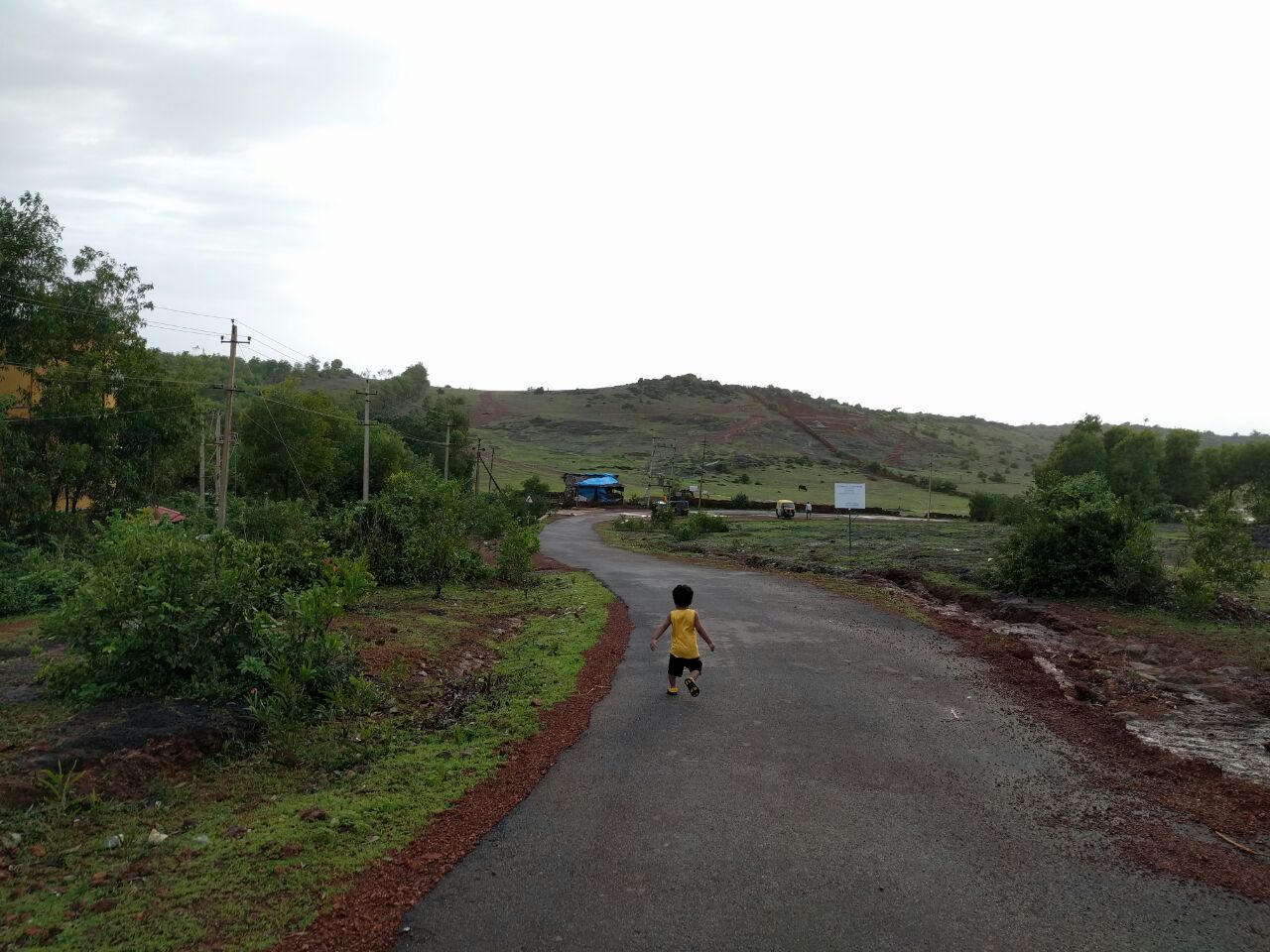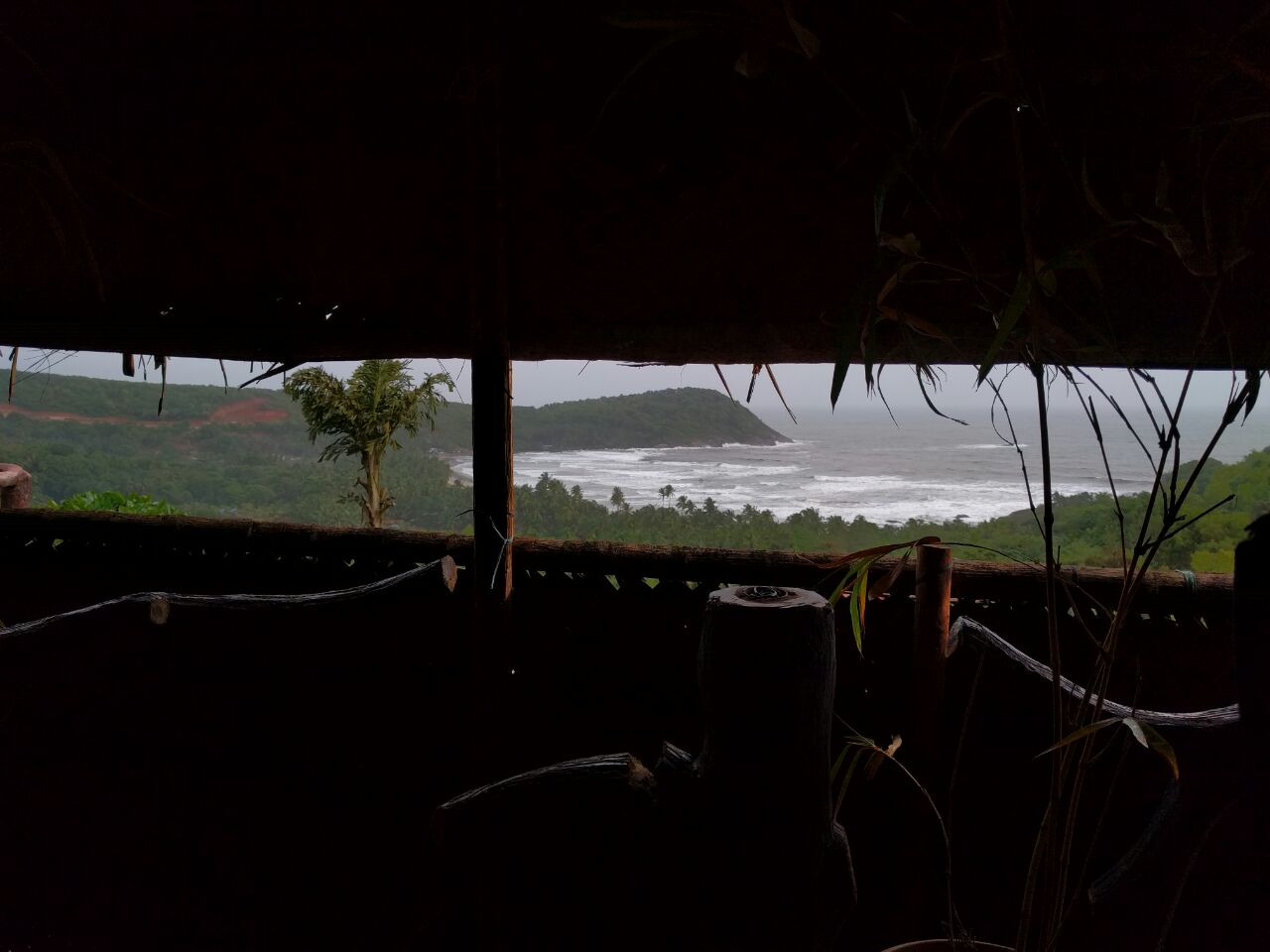 The next day we decided to visit Murudeshwar and the famous Jog Falls. Murudeshwar is known for world's second biggest Shiva statue in a breathtakingly beautiful setting. The gopura housing the lift was closed, and would remain so till 3 pm, so we walked up to the Shiva statue itself. Rishi climbed 85 steps holding our hands, then his father lifted him up when the time came to take off our shoes. The temple was closed as well, but we saw the idols inside through an open window. Apparently there is a cave inside, which probably contains the sanctum sanctorum. They allow people to go inside. We sadly couldn't, but the statue was magnificence itself. It's difficult not to feel humbled before the sheer grandeur of it.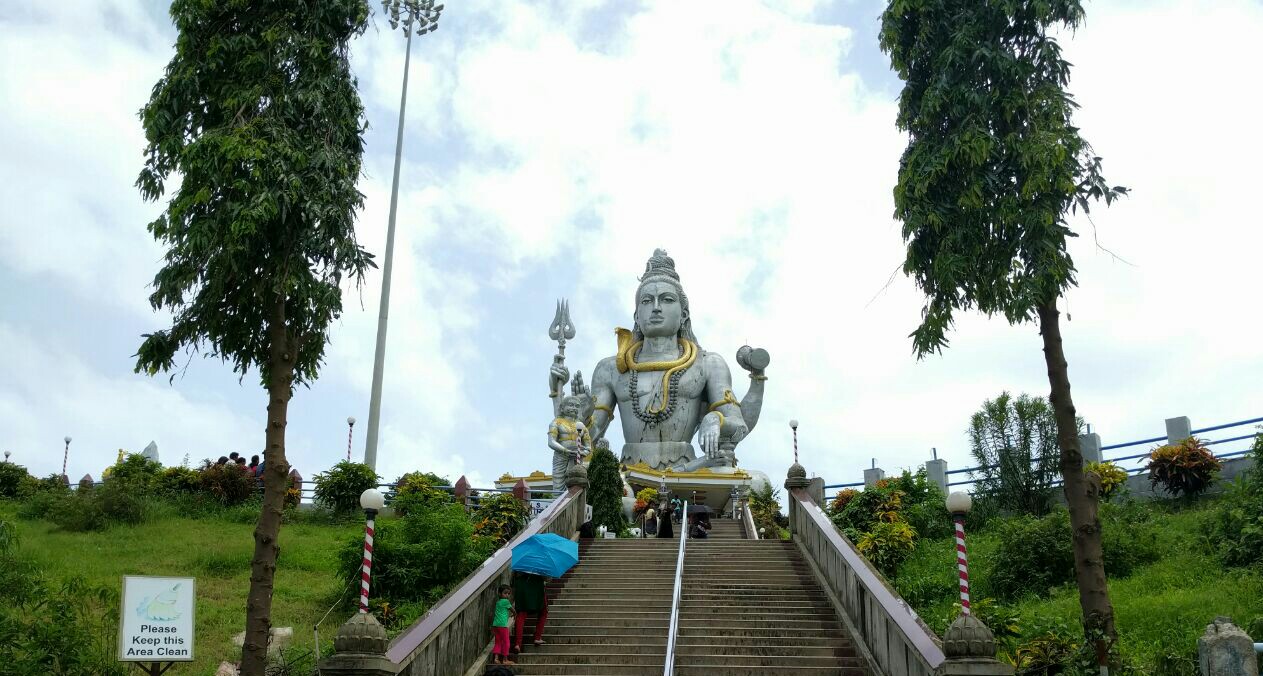 Near the temple are restaurants and shops selling trinkets and souvenirs. We bought a pair of slippers and a toy aeroplane for Rishu and ate at Naveen Restaurant which, despite its picturesque location surrounded by the Arabian Sea on all sides, was uncomfortably hot. We chose to sit out and brave the heat for the sake of the view.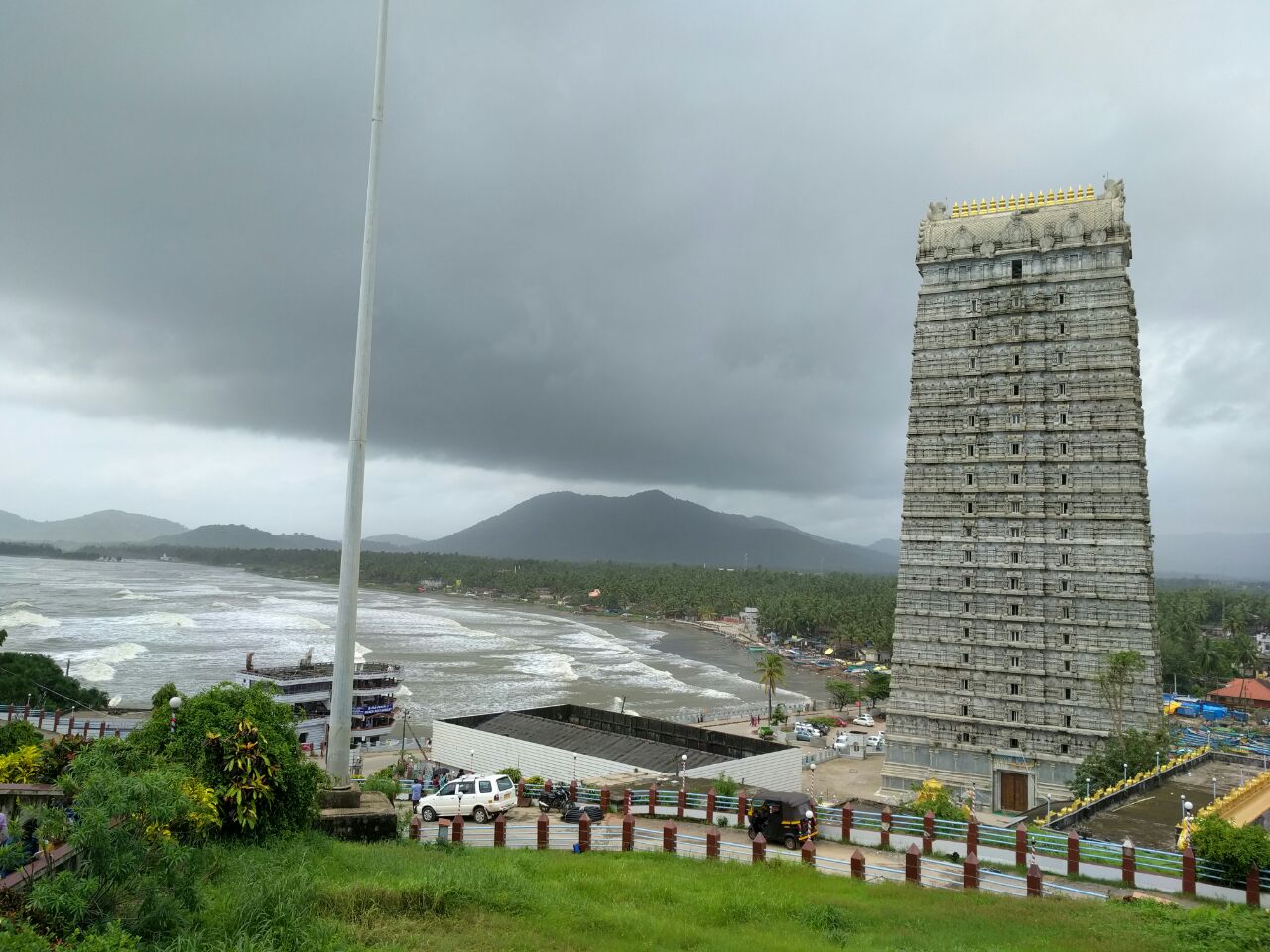 We approached Jog Falls from the direction of the PWD bungalow, and frankly, the falls looked disappointing. I have since figured out that we visited at the wrong time of the year, that the beauty that Jog is famous for is at its best when the monsoons hit the area. It took us about three hours to return to the resort, and the last couple of hours were tense as my husband had to drive on an unfamiliar terrain in almost complete darkness with trucks and tankers frequenting the route.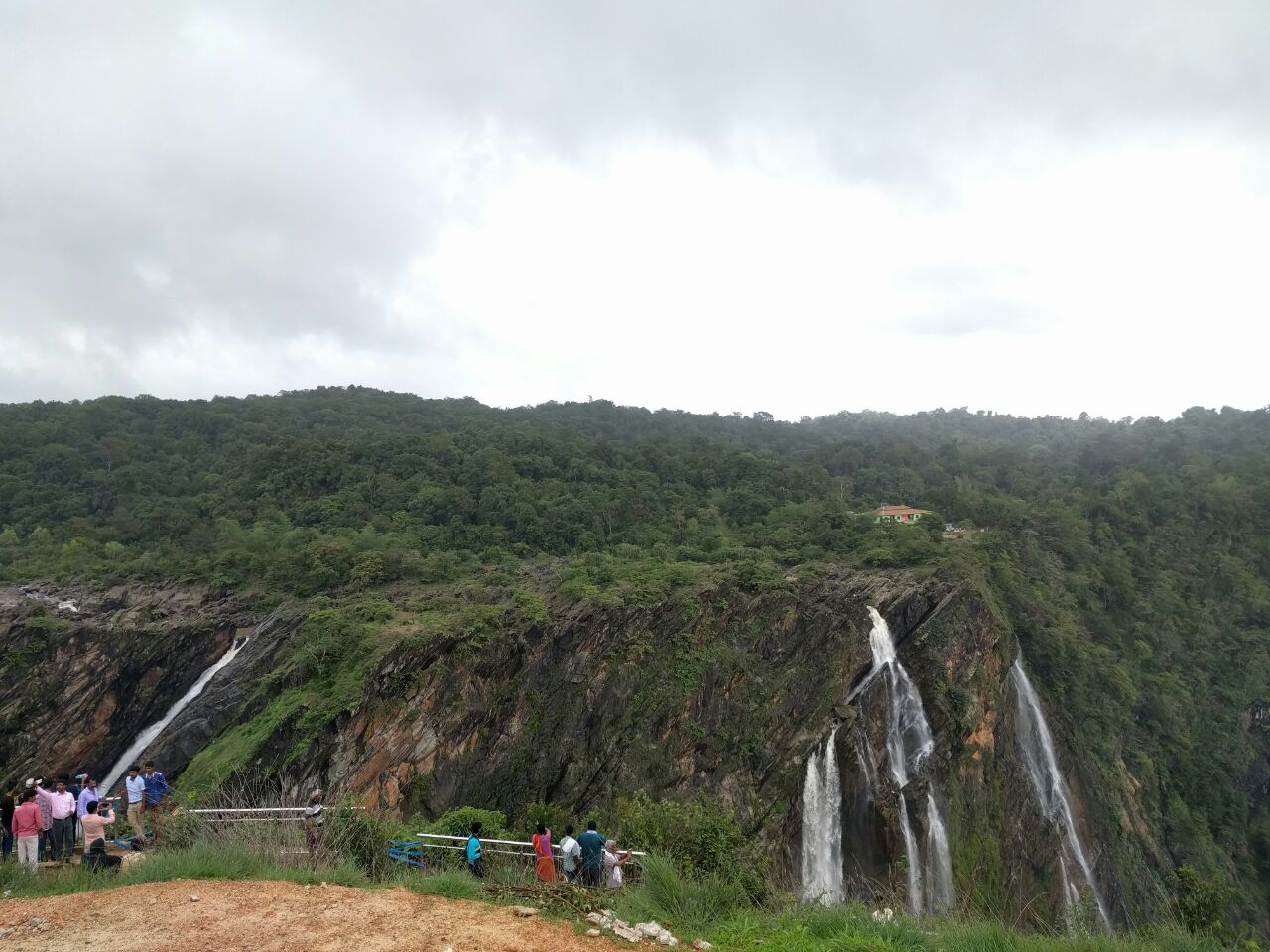 The next morning we went walking to the Shiva Caves after breakfast. We found a smallish cave hardly 2-3 minutes away from the resort with a crude lingam inside it. It must be said about Kudle Beach View Resort and Spa that it is situated very conveniently, within comfortable walking distance from Kudle Beach, the purported Hanuman Janmabhumi (I say purported because Anjaneya Hill in Hampi is also and more widely known as the birthplace of Hanuman), Shiva Caves and the Maha Ganapati Temple. Just beside it are Namaste Sanjeevini and Namaste Yoga Farm, and a few minutes down the road is Zostel. And as bonus comes the gently ascending cliff to the top of which Hubby drove our car later in the afternoon.
I sat in the car with my son asleep in my arms as I took in the unobstructed view of the sea and basked in the insane wind blowing in from it. One's heart feels fit to burst from trying to absorb all the beauty at one go. I later went and stood by the cliff side, and could see the horse's mouth inlet that Hubby had already taken a look at. If I have ever in all my life lived in the moment, it was there, on that cliff top, as if there was nothing else in this world but this, this pristine loveliness. Words will always fall short of describing that feeling.
Anyway, we went into the town to see Koti Tirtha after visiting Shiva Caves. Legend has it that one crore (Koti) sacred springs are contained in it. The street leading to it reminded my Hubby of the Banaras galis. To me it looked like a narrow lane lined with curious looking houses. Every house looked like a temple to me. Very nearby is the famous Mahabaleshwar Temple, but not being big on functioning temples we gave it and all other temples a miss.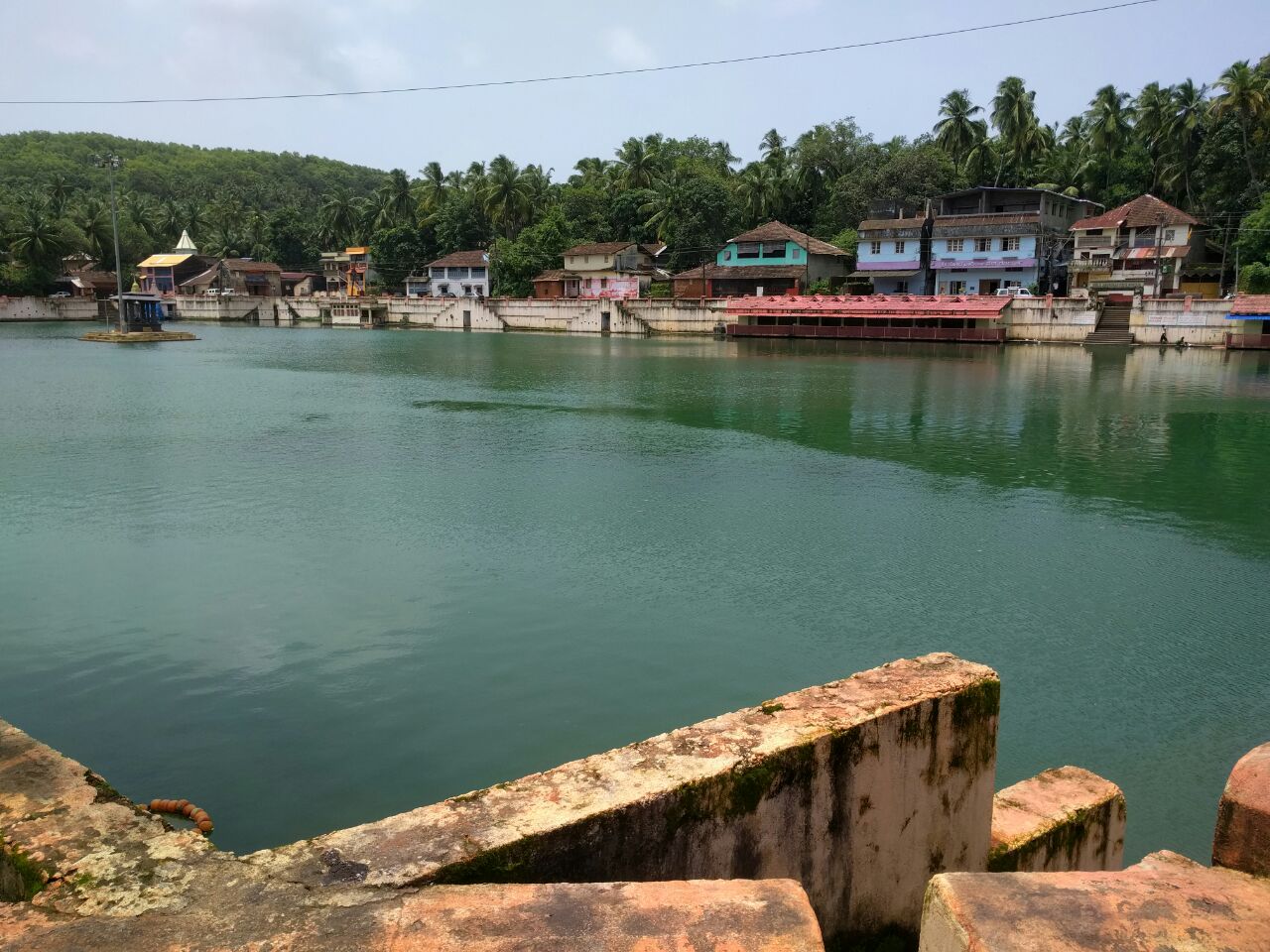 Mirjan Fort was next on our 'to-be-seen' list. Frankly I wasn't too keen on the fort, but later I was glad to have gone there. A structure from the 1600s, the Fort was respectably big and pretty well-preserved. Its mossy walls symbolised to my mind Nature trying to reassert itself. But careful maintenance has ensured the peaceful coexistence of architecture and nature in a serene setting where the quietude was occasionally broken only by the mooing of cattle.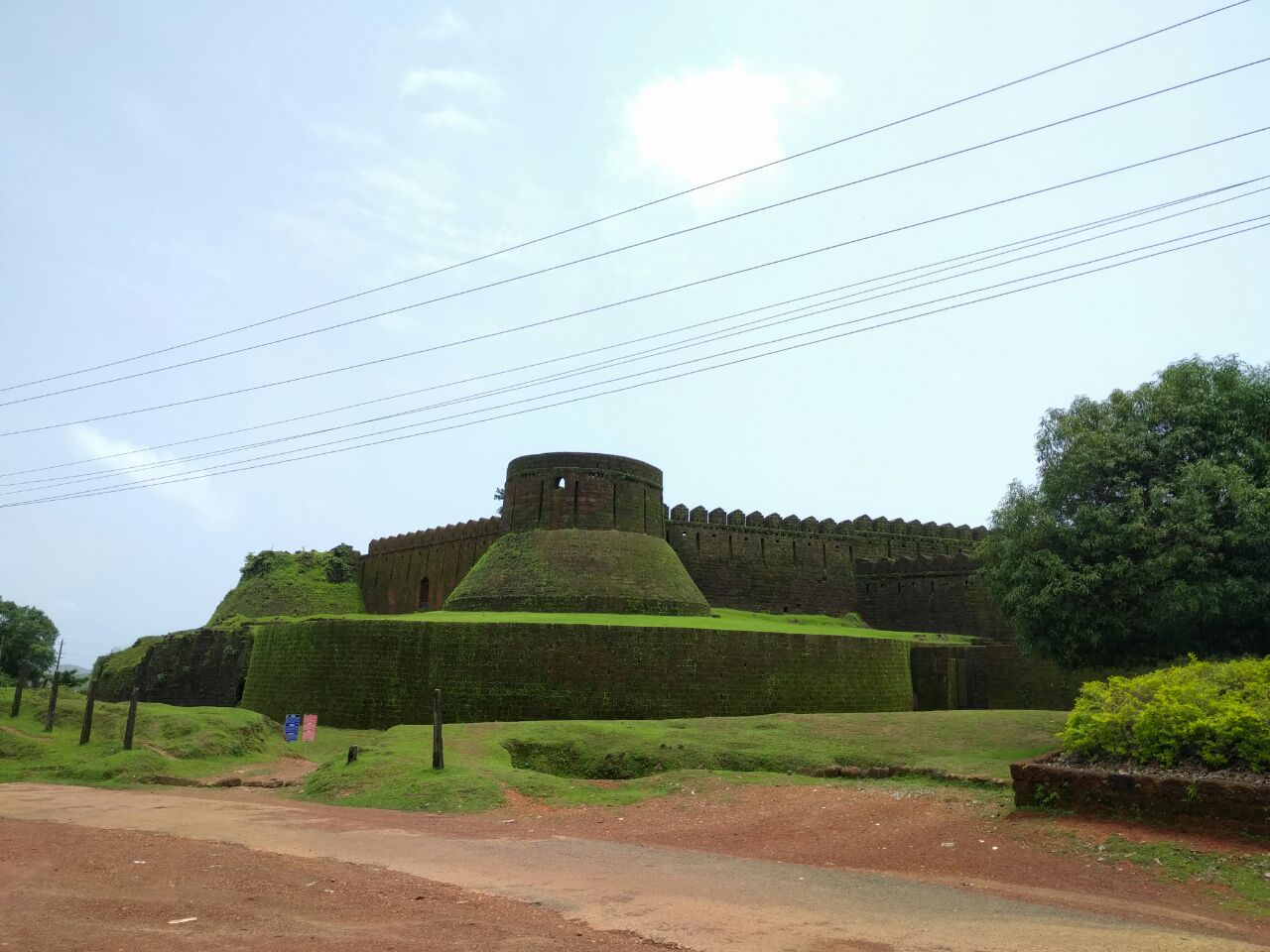 Next we drove to Om Beach. I have said already that it is  possible to trek from Kudle to Om, but a 3 km trek with a toddler in tow wasn't something we were looking forward to. Om is like Kudle, narrow, and the sea comes in almost all the way in places. There are boats and benches lining the beach. Rishu gingerly and half-heartedly played on the wet sand with his sand bucket and shovel. It kept raining intermittently. From where we stood the Beach didn't look as littered as Kudle. We ate at Namaste Cafe. The view was awesome. My brorher-in-law told me later that their pancakes were great. We tried some fried Pomfret. The fish was small, undoubtedly fresh, but quite a bit overpriced. Namaste looked like a good place to stay in as well, especially for young people in groups.

A trek from Om brings one to Half Moon Beach, and thence to Paradise Beach. Despite having heard of their celebrated beauty we elected to skip visiting. Cranky toddlers who demand to be taken in lap when bodyache strikes aren't the best companions for trekking. Also I didn't want to be caught out in sudden rain. So we were on our way back to the resort when I convinced Hubby to drive us to the main beach, Gokarna Beach for a look around. It took a little persuading because this is a famously dirty beach. We took Car Street and was led into a narrow gully lined with shops selling colourful wares, past a temple or two, and just when we were starting to doubt Google Maps the lane opened onto the beach.
There's a cemented car parking space, and by it a few shops, shacks really, and a shaded area containing benches where people were sitting. This is the only place we actually saw people bathe. The other beaches had notice boards prohibiting bathing and warning of whirlpools. Two policemen stood guard as people frolicked and jumped around. We parked our car facing the sea and I fed Rishi while Hubby got out and walked about a bit.
Then we went on our way back to the resort and since Rishi had fallen asleep and we didn't want to risk waking him up too soon, we went and had our clifftop hour of bliss, and thus our little trip ended, for the hours we had left were spent sitting in our beach facing balcony, befriending the resort cat and simply lounging about. We had a lovely time of it. Maybe because we missed the peak season by months we saw the less commercialised face of Gokarna, but what we saw, we loved. I, for one, wouldn't mind visiting again!
Gokarna Hotels : click here
~ Gorgeous Gokarna ~