The Ispat express reached Ghatsila station right on time. The sun, then, was beaming brightly all over in the autumnal morning. We went, by an auto, to the guesthouse that was on a lovely location just by the side of Subornorekha river with abundant natural beauty on all around. Needless to say, a Sojourn in such an idyllic place in the lap of this splendid natural ambience is really a great pleasurable experience for the people with love of nature!
Ghatsila is a small town in Singbhum district of the state of Jharkhand, India, seemingly still carrying the reminiscences of the bygone era. Hillocks, river of Subornorekha, dense forest, simple life of tribal villages that surround the town, make it a favourite getaway for those having plenitude of affection to the pristine beauty of the nature. The day we made it to the town was "Mahanavami" — the third day of Durgapuja festival. This town being a proud home of a sizeable number of bengalis having been dwelling here for generations, the festival is seen to be celebrated so widely across the town with great vigour and fervour. In addition, the cheerful participation from tribals and other local communities give the festival a colourful and lively look of integrity to a great degree as well. We, on reaching here, got the touch of the warm exuberance of the festivity drifting everywhere through air and sky. We had a feeling, as it were, of having been at a puja pandal somewhere in west Bengal, while we putting in an appearance at one in the proximity to our guesthouse. We whiled away some gleeful moments there with the locals partaking of the ongoing warm enthusiasm and ebullience around the festival.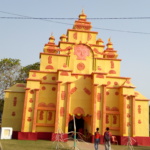 After finishing with the lunch, we were out to visit the places of interest nearby. Going on foot, where we arrived first at, within fifteen minutes was RANKINI MANDIR housing deity of kalimata. To the belief of the local populace the Devi here is very responsive to the devout supplications. This temple is believed to have shifted from Galudih by the king of Dhalbhumgarh sometime in 18th century. But, so far as I know, there is no plausible answer found thus far from any reliable historical source as to why so happened on the part of the king. Though, the old temple, 16 Km away from here at Jadugoda, near Galudih town, where the deity is supposed to have once shifted from, is still in existence to this day by the same name as Ghatsila's and is a big draw to the tourists coming here.
Next, we visited CHITRAKOOT HILL — actually a small hillock on the top of which lies a small Shiva temple. A couple of minutes' walk up a rugged path strewn with boulders and pebbles takes you on the top. Calm and quiet this place will wash away all your weariness if go for strolling about here for some whiles. The aerial view of the Ghatsila town from here is an awesome sight in real terms.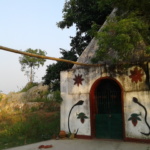 On the way back to our guesthouse, all on a sudden, our attentions were drawn at the western sky going crimson, heralding the end of the day. Standing spellbound on the bank of the Subornorekha river, we witnessed an eye-popping view of a sunset and its spectacular reflections in the rippling waters of the river.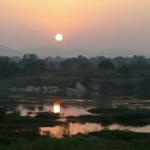 The following day we took a car on hire for visiting the places worth seeing in and around Ghatsila. Heading a little distance away, we came across RAMKRISHNA MISSION, a notable place, popular with those come to visit here. When we were there, puja of dashami was going on with great devotion and holiness. We passed there a few moments through a genuine spiritual atmosphere and made for our next destination afterward.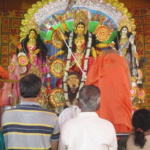 Ghatsila is very passionately associated with the memory of Bibhutibhusan Bandyopadhyay — a luminary in Bengali literature, novelist, and the author of the masterpiece work 'Patherpanchali '. A solitudinarian, Bibhutibhusan spent here a long time since 1938 till his last day, 1st November, 1950 with his family. GOURIKUNJA, as was named after his wife, was the abode of this literary celebrity during his stay at Ghatsila. It is worth mentioning that a good number of his literary classics including 'Patherpanchali' were composed here. Unfortunately, this memorial house had been left for long in disrepair and neglect leading it into so deplorable a state that was really very painful to eyes. Finally, after a long wait, in the year of 2008, this old one assumed a new look, as it is now, following the much sought-after restoration work done on it. A bust of the author is seen set up right in front of the house. There is a library here. This place is worth a visit to those who always feel in themselves a great pride and regard for rich Bengali culture and literature.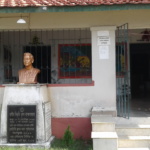 The large expansive area of the HCL (Hindustan Copper Limited) factory got the eye while we passing by it, putting me in mind in a flash of the fact that Ghatsila's is the largest copper mining zone in India and the second largest in the world.
The GALUDIH BARRAGE/DAM with 21 slues gate on Subornorekha river is another spot to have some beautiful moments through giving a look around it. Galudi town is just three kilometers away from here.
PHULDUNGRI HILL was our next destination. Located along the Tata highway, this hilly region's main attraction is its sylvan ambiance amidst a pleasing serenity. The hill is not so high and steep. But still it may appear toilsome to tread the rugged path up to its top to some, especially those who are a bit aged. But upon reaching, you couldn't help wondering by what a great enjoyment waiting for you in this realm of a splendor of greenery.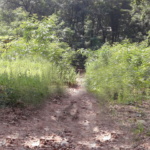 We started getting into ahead again. After going up some distance, our car hit a solitary road, the both sides of which along were dense forests replete with the trees like sal, palash, kendu, mahua, akashmoni and so on. It is a nice pleasure to gaze out into the lush lively greenness apparently zipping behind before your eyes. Heading further a distance of couple of minutes, all at once, there occurred a change in scenic panorama to our amazement. Now we were on through a place with lot of hills around in the lap of a romantic verdure and wilderness. During these moments we were not on the intention at all to have a diversion of our attention a bit off that awesome beauty of the nature, so, went on with keeping our eyes glued at.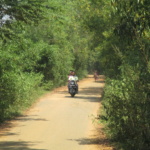 It was DHARAGIRI FALLS we reached next. The falls was quite a distance away from where we got off from our car and going walking therefrom is the only means to cover the interim distance. Through deep forest the way leading to the falls is narrow, rugged and infested with loose boulders, and no how a least friendly to walk on, but is much thrilling and enjoyable nevertheless.
The falls is not so striking, rather a small one with very thinly downward stream but the ambiance it is located in is mind-blowing.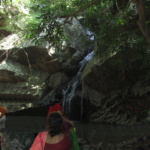 Here we savoured the taste with sheer delight of omelet and tea at a native refreshment's kiosk with thatched roof and open on all sides, run by a tribal family.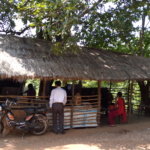 At BURUDI LAKE what attracts most is its scenic beauty. Here we had a view of the wonderful landscape of a nice lake hemmed in by an undulating range of hills liven up by the plenitude of sparkling greenery. One can have a delightful time by going boating on the lake. It is a perfect picnic spot too.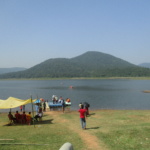 Our sightseeing journey came to an end at RATMOHONA —- a must visit — by the side of Subornorekha river. We spent here a lot of time with a view to visiting the captivating sight of the sunset that had earned the place a great reputation. Very closed to HCL, Ratmohona is perfectly an eye-filling spot. Here in the vicinity, which met our eyes specifically, was a pleasing view of a waterfalls of small height on subornorekha river. It is an exciting pleasure to set eyes still for moments on the volumes of the growling water falling vehemently over the rocks onto the bed of Subornorekha, causing a tremendous stir there around. You can have a nice moment here through skipping down the rocky surface, taking selfies in different poses against the backdrop of the superb landscape around or simply having a thrill dipping your toes softly into the rushing waves.
Finally came the time, the sun started sinking behind the hills. Undoubtedly, experiencing such a stunning view of sunset is really an unforgettable memory for one's lifetime.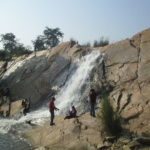 The following day, before leaving Ghatsila, we had got a couple of surplus hours out of our schedules on us. When thinking how to turn these whiles to a good account rather than frittering it away idly, all on a sudden, we made the acquaintance of a magic van driver named Mongol and got to learn off him the name of 'DANGADIHI'. It is an offbeat place almost unheard-of for those coming here on tour. Without any hesitation we got into his cab forthwith to get to Dangadihi. This spot, as was told by Mongol, was 8Km away from Ghatsila station along Tentuldanga Road beyond Chitrakoot hill. It is truly a place worth a visit. This is a patch of land with forested surroundings in an awesome wilderness and tranquility where a small spring debouching from nearby bush takes a leap into a rivulet in a childish playfulness. It is also a nice picnic spot. We were all very delighted being here and very naturally struck by the thought that it was Dangadihi, without visit where our trip to Ghatsila would remain incomplete. Thanks to Mongol.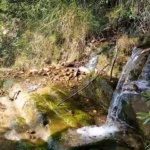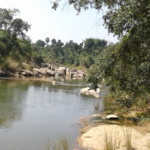 ■ HOW TO REACH GHATSILA:
Railway distance from Howrah to Ghatsila is 215 km. A lot of trains, such as Ispat Express, Steel Express, Kurula Express, Neelachal& Utkal Express run from Howrah to Ghatsila  on Howrah-Mumbai railway track. Besides, there are many passenger trains also between Kharagpur and Ghatsila. If you prefer going by road covering the distance of 240 km in between, have to take to NH-6 to Baharagora first then the road to Jamshedpur therefrom.
■ WHERE TO STAY IN GHATSILA:
There are so many good hotels/lodges in Ghatsila to stay in. Bibhuti Vihar, Anandita Lodge, Jyoti Palace, Hotel Akashdeep, Suhasita Resort, Resort Annasha, Hotel River View are the some among them.
■ THE BEST TIME TO TRAVEL:
October to March
About myself:
Travelling is my passion. Actually I like travelling as much as writing on a trip that makes me delighted, though, have a great fondness for writing on other topics too. I always enjoy reading books of all kinds.