Heart, a simple word means so much. The faintly-audible pumping of heart generates the whole world. The World Heart Federation (WHF) in collaboration with World Health Organization (WHO) has taken steps to drive away the non-communicable diseases, mortality reduction by reducing premature deaths from cardiovascular diseases (CVD). They pronounced the 29th day of September as the 'World Heart Day' and are observed internationally. Their aim is to increase public awareness of cardiovascular diseases including their prevention and their global impact.
The noble initiative was flagged off under the supervision of Antonio Baye`s de Luna, president of WHF in the concluding years of twentieth century and the arrange for an annual event with a specific motto and this year they adages creating "Heart Healthy Environment". The slogan is inspiring to protect the heart from environmental pollution as well as to keep the environment clean. Dr. Suvro Banerjee, a senior cardiologist at the Appolo Gleneagles, Kolkata, suggests "giving up bad habits such as smoking, frequent consumption of alcohol etc., can be the basic step of ones contribution towards preventing heart diseases and creating heat healthy environment for all."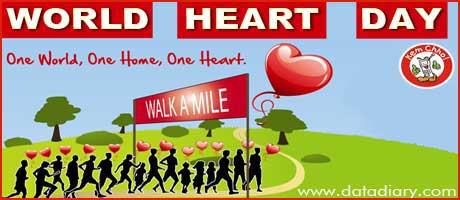 A survey on the rate of cardiological diseases reads that every year more than 17.3 million people die out of cardiovascular diseases and 80% of them are from developing countries. The study also points out the passive effect on people who are not addicted to any such inebriation. "A balanced diet, adequate exercise in the presence of greenery, good control on risk factors such as high blood pressure, diabetes and cholesterol may help in the recovery of such high rates of the diseased" added Dr. Banerjee.
Organising road shows, programmes and distributing pamphlets has definitely seen improvements in the work but the world is yet to experience a cardiological disease free earth.
~ Don't let the 'Heart' suffer ~